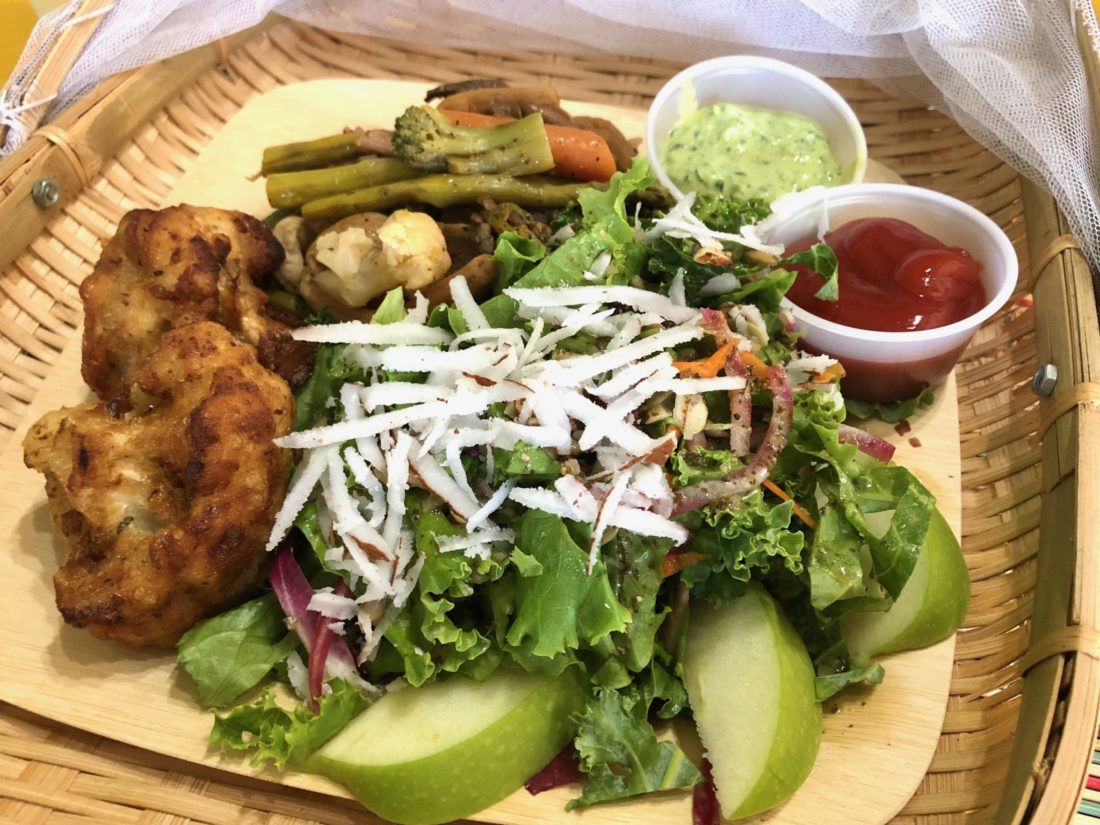 Finding great vegan and vegetarian food on St. Croix is an easy task to accomplish! For devout herbivores, it's important to locate eateries that are true to the preparation of these foods. Visitors to St. Croix will be pleased to learn about the wide variety of vegan & vegetarian restaurants found throughout the island.
To refresh your memory, vegan & vegetarian dishes are void of animal products – pigs, chickens, cows and fish – animals that had parents. Furthermore, vegan dishes do not include dairy milk, dairy cheese, eggs or any other product derived from an animal although vegetarian dishes might. Due to these limitations, it is often believed that vegan and vegetarian foods lack flavor and depth. Luckily, that is not the case on St. Croix. While I am the epitome of a carnivore (I'll eat anything that had parents), I fully appreciate great food regardless of its classification. Check out these following eateries when looking for vegan and vegetarian food on St. Croix. They will definitely shift your mindset (and taste buds) around these food options.
Ital in Paradise
22-20B Queen Cross St, Christiansted
Monday – Saturday 12pm – 8:30pm
Phone: 340.713.4825
Located in the heart of downtown Christiansted, this hidden gem is sought out by vegans and meat eaters alike. With a limited menu that changes daily, customers can be sure that everything that owner Chris Monbelly prepares is done exceptionally well. From coconut curry tofu, fresh tuna burgers, lentil balls and grilled local fish, you will not be disappointed with any item that comes out of the kitchen. Their local drinks are not to be missed. Enjoy flavors like tamarind, ginger-pine, melon-ade and peanut punch.
Cafe Roots-N-Kulchah

67 King Street, Frederiksted
Wednesday – Thursday 11:30am – 6pm
Friday Lunch 11:30am – 2pm
Friday – Saturday Dinner 5pm – 9pm
340.513.8665
This vegan/vegetarian restaurant is located in historic Frederiksted. Chef Kimba creates one-of-a-kind dishes that are packed with flavor and leaves you wanting more. "Rasta chicken," veggie pate, stuffed smoked plantain, coconut Ital soup and an assortment of local drinks are a few of the items available at Cafe Roots-N-Kulchah. They also recently won best vegetarian dish and best beverage at Taste of St. Croix 2018.
UCA House Kitchen & Rastafarian Cultural Center
Custom House Street, Frederiksted
Monday – Friday. Hours may vary.
340.772.5063
Ital is vital! This eatery offers some of the best vegan and vegetarian food on the island's west side. Daily Ital specials, veggie soup, stewed veggies, garden salads and local drinks are packed with a flurry of flavor that will make you consider going full vegan.
If you're trying to figure out what to eat on St. Croix, this list will definitely come in handy regardless of your food preference. Vegan and vegetarian food on St. Croix will change your outlook on healthy cuisine. Have you tried any of these Crucian restaurants? Any places that need to be added to the list? Comment below plus share and tag Cruzan Foodie in your photos on social media!
Until Next Time,
Q the Cruzan Foodie